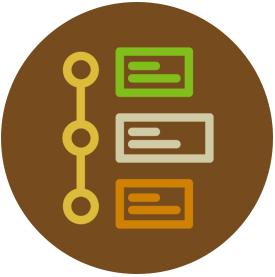 The planning process is designed to engage the public. Since the timeline is subject to change, interested parties are encouraged to Click Here to sign-up for email updates. The website will be updated as the project advances through the environmental review process.
Pre-Application Timeline
1976: Sierra College purchases the property from Mr. Cecil Finegold who had acquired the property from Ida and Bob Otani. The Otani's grew peaches and pears on the property until it was no longer economically viable. In the early 1990's, the college explored leasing some of the property for a driving range and in the middle 2000's the College explored a commercial development that did not materialize due to the economic downturn.
December 2, 2013: Sierra College hosts a neighborhood meeting to introduce the Rocklin Campus Draft Facility Master Plan.
March 30, 2015: Sierra College solicits development proposals from development community.
February 9, 2016: The Sierra College Board of Trustees adopts Guiding Principles on how the surplus property should be developed.
February 2016: Sierra College selects Dan Cole, president/CEO of Evergreen Sierra East, as the master developer of College Park (formerly Sierra Villages).
January 9, 2017: Evergreen Sierra East submits project application with the City of Rocklin. Application is not advanced.
Early 2018: Cresleigh Homes is added to the development team to build homes on portions of College Park North Village (Site A) and portions of College Park South Village (Site C-1).
August 29, 2018: The development team invites over 700 neighboring households to the community meeting at Sierra Elementary School to introduce conceptual plan for College Park (formerly Sierra Villages).
December 2018:Based on community input, the number of single-family homes to be located at College Park South  (Site C-1/near Monte Verde Park) is reduced from 37 to 25 homes.
December 2018: Based on neighborhood feedback, a new project application is submitted to the City of Rocklin, an application process that will likely take up much of 2019.
Application Timeline
January 2019: Development team launched project website and continues to meet with interested parties, a process that is ongoing throughout the application process.
January 2021 (Application Process): The project is undergoing extensive environmental (CEQA) review which includes traffic analysis. The traffic analysis will not only evaluate the impacts of College Park, but the cumulative impact of other proposed projects, including Sierra College's Facility Master Plan.
When the Draft Environmental Impact Report (DEIR) is released to the public,  the public can offer written comments on the document's analysis and provide oral comments at a public comment hearing. And finally, before the project can be approved, hearings will be held before the City's planning commission and city council. All public hearings will be publicly noticed.
Click Here for the projected application timeline.